Lancaster House transformed with Insulshell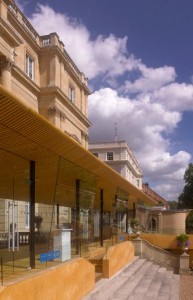 With Insulshell officially launched to the market last year, its design flexibility was put through its paces during 2012, with the development of 'The Pavilion' – a temporary construction at Lancaster House. Conceptualised as an extension to the existing building to accommodate the UKTI delegations during last summer's sporting events, architects Waugh Thistleton specified a vast glazed area with a timber floor and roof.
Tasked with delivering this on-site, events contractors Innovision were faced with the challenge of constructing the single storey 4m x 50m structure against tight timescales and an agreed budget.
Offering a full turnkey solution to this challenge, Insulshell designed and manufactured a fully demountable system that could be re-deployed after the event. Manufactured in 18 sections, the system was fully pre-fabricated off-site with the glazing installed on-site. Taking just four weeks to manufacture, two weeks to install and four days to demount, the flexibility and speed of construction of Insulshell were well demonstrated.